Having celebrated the achievement of the 'One Love Manchester' concert and following on from yesterday's fine 'Power of Sport' benchmark from Gareth Bale and the FAW, it would be remiss of us not to cover the following story as yet another fine example of communities pulling together.
We all no doubt saw news coverage of Grenfell Tower, the horrific fire that claimed the lives of many and displaced countless families in one of the less affluent districts of West London.
Looking to find a way to help from the off, Sky Bet Championship based Queens Park Rangers FC immediately opened the Loftus Road doors, using the Shepherd's Bush stadium, approximately one mile away as one of the bases for community support activation efforts. Multiple relief packages were delivered and administered with the help of selfless QPR staff, though their part in the story was only just beginning.
Having grown up in the area himself, former England International Les Ferdinand, now QPR Director of Football quickly got to work to spearhead a collaborative effort to raise funds as best he knew how. With the support of Chairman Tony Fernandes and Columbia Records' Ferdy Unger-Hamilton, wheels were put in motion for a star-studded charity football match with the sole intention to raise relief funds for Grenfell Tower families.
As can be seen below by the list of star names attached and ready to play in #GAME4GRENFELL, the QPR call was met with enthusiasm from the sport and entertainment community, making the most of the international break for Premier League and Championship teams by staging the match this weekend.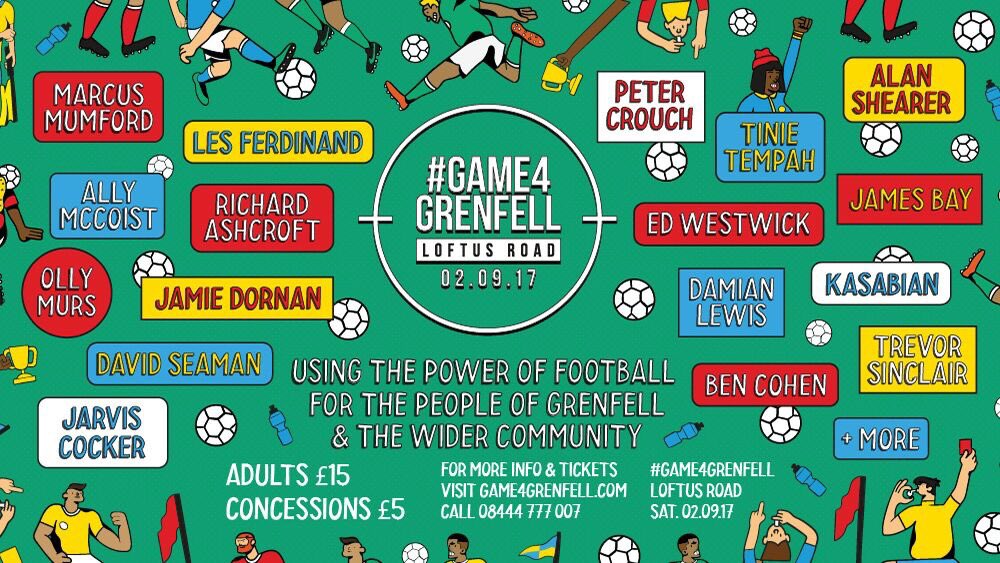 To his and his department's credit, QPR Head of Communications Ian Taylor, well known by the Fanalyse team has illustrated the commitment of the club in its efforts to put the match on, drawing in a number of the star names above.
Blown away by the support from so many @EFL clubs re #Game4Grenfell. The power of football is quite something! https://t.co/ptgEc8E2Vx 👍 pic.twitter.com/TxDmwniUfL

— Ian Taylor 📲🎙⚽️ (@IJTaylor81) August 30, 2017
Adding momentum, the match has been picked up for TV coverage by Sky Sports, which other than adding a huge PR push to the cause, will also add considerable funds to the pot.
All associated should be commended on the work undertaken so date, far beyond the regular throes of league football, which can at times feel like Groundhog Day, or at least Groundhog Season.
The #GAME4GRENFELL campaign and achievement is one that all connected will feel pride for playing a part, arguably far more than any promotion or cup win. This again, shows that sport can be far more rewarding and powerful than what happens on, in this case, the grass.
You can donate to and track the cause via the link below. We know we will be.
Proud to be playing in #Game4Grenfell @ Loftus Road this Saturday. Very important cause – buy tickets here https://t.co/UgxWq7gTLf pic.twitter.com/jlmPcxByYY

— Sir Mo Farah (@Mo_Farah) August 29, 2017
💚 #TeamFerdinand or #TeamShearer?

The #Game4Grenfell squads are confirmed: https://t.co/ay8Lfngzpd pic.twitter.com/HnC0XBvpnE

— QPR FC (@QPRFC) August 30, 2017
How fit are you Trev? I'm thinking of 60 mins for you! I'm expecting at least 2 goals from you and 15 crosses into the box for Coisty!!😳 https://t.co/GK0KpbWKDF

— Alan Shearer (@alanshearer) August 30, 2017
🙏 Please support #GameForGrenfell @QPRFC on 02.09.17 – All proceeds to those affected by the fire.

Tickets ➡️ https://t.co/YEPJmmbS94 pic.twitter.com/EgsJQKooo6

— Leeds United (@LUFC) August 29, 2017
Team Ferdinand vs Team @alanshearer #game4grenfell
4days till the big game!
Come down & show your support @QPRFC loftus road Saturday 👍🏻

— Olly Murs (@ollyofficial) August 29, 2017